2 years. I figure I should be saying something like "It's been a long time." Has it been? Feels like yesterday, feels like an eternity.
I miss you. Sometimes I miss the you I had before you got sick. Sometimes I'm not mourning my mother who died 2 years ago, sometimes I'm mourning the one who died long before that, the one who died that day when I was 14 and a doctor confirmed a diagnosis we all suspected. Or the one who died before that when Dad left four years earlier. Or the one who died a little bit every day he was still there.
Sometimes I mourn the mother I never had. The mother who might have existed before I was born or before my brother was born. Or maybe it's the mother who never could have existed. Maybe it's the mom I wish I had who was like the moms on TV: Carol Brady or June Cleaver when I was younger; Lorelai Gilmore when I was older.
I thought I did a really good job of preparing for the end of your life. You told me you were going to die. No one knew what the future held but there was (and still isn't) a cure for MS and we didn't know how long it would take but if one thing was for sure, it was that you were going to die. You were always clear about that.
But the days were long and the years were short, just like they say with raising children. Somewhere in there I forgot you were my mother and you forgot I was your child.
And then the call came in that you were going to the emergency room again. What was it, the 6th time in a year? Each time I thought there was no way your body could survive one more infection but each time you'd pull through.
Something was different this time. I could see it, hear it, feel it. People kept saying to try to be positive, that you could recover again. That made me furious. I looked in your eyes. I knew you would not.
More setbacks. A 3 a.m phone call from the Critical Care Unit. Another call to say it was time to remove life support. To say goodbye. To wait. 10 days after the onset of your last infection, you finally let go.
And now, here we are, 2 years later. I always thought people went through a numb phase up front, then gradually started to deal and at some point they looked back and realized they've accepted. Somehow I'm still numb, except when I'm not, until I can stuff it back down. I'm not sure if I'm starting to deal. I'm not sure I'll ever accept.
Grief is a pretty strange thing, indeed. Some days I know that your release from your physical body was probably a relief for you and that makes me happy. Some days I am glad that your suffering is over. And some days, selfishly, I'm glad that my days of watching you suffer are over. Those days I feel like the worst daughter in the world for thinking such a thing.
I'm still angry that you're gone and I'm still angry for how long you weren't there before that. I'm angry that I was robbed of a mother. I'm angry about so many things. I'm not sure who I'm angry at. You? The universe? I really don't know.
At the same time, I'm sad. I'm sad that I didn't know the woman that I suspect you once were before everything went wrong. I'm sad that we didn't have the connection that so many women have with their mothers. I'm sad for everything we missed out on - you enjoying your daughter, your daughter enjoying her mother.
But also, I'm thankful for what we did have, for the good times, for the good memories that do exist. And some days I'm OK. I can laugh, and smile, and poke fun at you like I did when you were alive. Some days things feel our brand of normal.
It's exhausting to feel all these different things, sometimes all at once. Some days it's easier, safer, to just not feel any of them. Some days I use all my strength to just not think of you and to keep all of the feelings at bay.
Two years is not enough time to process it all. It just isn't.
Rest in peace, Mom.
November 17, 1948 - April 22, 2010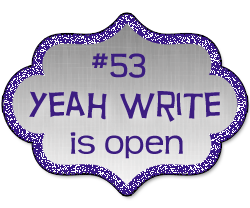 I'm linking up again this week with Yeah Write. You can read many amazing blogs by clicking on the badge above.
~~~
Thanks for reading!
You can follow my blog by entering your email on the sidebar.