When I was about 11 or 12, my mother declared she would not be cooking Easter dinner and we officially had no plans. In an attempt to avoid the prior year's Easter dinner at Burger King, I decided that I would cook the Easter meal. It was to be a feast fit for 5 - my brother and mother, my grandmother and grandfather, and myself.
Everyone agreed that it was a lovely idea.
I spent the entire day before Easter crafting our after dinner entertainment: An Easter themed board game. I drew the board. I crafted the markers that would travel around the spaces. I created cards with trivia, all of which was carefully researched inside the many volumes of The World Book of Knowledge that graced our dining room bookshelf. I wrote up the rules so as to avoid any accusations that I was making them up on the spot for my own personal gain.
I pulled out my book of children's crafts to fashion place mats, napkin rings and name plates. I put far too much thought into the seating arrangement. I used construction paper and markers to write a menu for my guests to view prior to our meal.
And, oh, what a menu it was! A canned ham, delicately scored with whole cloves inserted at the intersections, complete with pineapple rings and maraschino cherries fastened with toothpicks. I saw this in a cookbook, so I knew it was the proper way to cook a ham. Mashed potatoes topped with McCormick's pork flavored gravy. Not one, but two cans of green beans. I even got my mother to buy the rolls in a can that I loved so much.
My mother helped, but not too much, because I insisted I was cooking this dinner and I did not need help. It was to be my first official dinner party and I wanted to do it all on my own.
As dinner time approached, my grandmother called to say she wasn't coming. She had hurt her knee and was going to stay home. But my grandfather was still coming and he was on his way.
When Grandpa arrived, I eagerly showed him the menu. He looked it over carefully. Since he was a cartoonist and experienced calligrapher, he gave me some notes on what I could have done to make the poster nicer.
We finally sat down to eat. I explained that I had made a fun game for us to play after dinner. I was so excited. Why weren't they? Did a hand-drawn, fairly complicated Easter trivia game not sound fun?
Halfway through the meal, we heard sirens and saw flashing lights. A fire truck was headed up our small, dead-end street. Concerned for our neighbors and perhaps with a touch of nosey-ness, we jumped from the table to see what was going on. It turned out that there was a small fire in the empty lot that butted up against our street. No big deal, things were under control.
"Come on, you guys. Dinner is getting cold. And we have to play our game!" I was still so excited.
That's when my grandfather spied the rusty frame that used to be our swing set. That swing set, in its hay-day, provided hours and hours of amusement for my brother and I and our friends from the neighborhood. It was typical of those you would see in the late 70s: Two plastic swings held on by metal chains, a metal slide and the 2-seater thing we would call "the bus." It started out red and white, now it was peeling and rusty. The swings and the bus were gone. The slide was dented and bent. But that contraption, cemented into the dirt by my father a decade or so earlier, was still standing.
This swing set had been in this dilapidated state for years. Why it became such a focus of his consternation on this particular afternoon still befuddles me to this day. Grandpa went into the garage and found a shovel. He set about digging that thing out of the ground and taking it apart.
I went inside. I finished my dinner. We cleaned up our plates, and made a plate to send home to Grandma. We packed up the leftovers for tomorrow's dinner.
When my grandfather completed his deconstruction mission, he was a sweaty, dirty mess. The swing set was out to the curb for heavy trash pick up later that week.
"Welp, that's done. Is this for your grandma?" he asked me, pointing to the plate on the kitchen counter while blotting his face with a paper towel.
"Yes."
"Alright. I'm going to get going. I need to clean up. It's hotter than you think out there today."
He said goodbye to all of us and he left. I picked up my game and threw it into the garbage on top of all of the food scraps from his half eaten dinner.
My mother later asked me why I was so upset. I'm sure I cried and ranted about feeling unloved and dismissed. She told me the food was good, everyone thought so. She said she appreciated what I did. "You know how your grandfather is." Despite knowing how he was, I was hurt and I wasn't done being hurt. So my mother told me to give it a rest and go watch TV. She was done comforting me.
So what's the lesson? It's this: Eat the mediocre dinner. Play the stupid game. Show up for the meal, limping if you have to. Don't dig outdoor play equipment out of the ground when there's a tween sitting inside who just wants to impress you. Pretend you're impressed, even if your not. Because nearly 25 years later, every year at Easter, even if it's just for a moment, she's still going to remember that either you weren't there or you weren't impressed.
I'm linking up again with Yeah Write.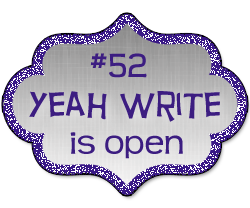 ~~~
Thanks for reading!
You can follow my blog by entering your email on sidebar.