In September of 1992, my sophomore year, I decided I was going to sign up for the cross-country team at my high school. This decision was based entirely on my ability to sprint short distances. In case you don't know, cross-country is about pacing yourself for long distances. I was beyond terrible and so, in September of 1992, I quit the cross-country team.
Imagine my surprise when in January 2005, I got a wild hair up my ass to run a marathon. Yes, I was going to run 26.2 miles. I started training the way any serious runner would, by jogging inside my house. I couldn't run outside in the cold because of my asthma and I didn't have a gym membership. Did I mention I was also about 15 pounds overweight? Yeah.
I soon realized that I might want to set a more attainable goal of a 5k, a mere 3.1 miles. The race I picked was listed as easy and flat, so I thought it would be good for a beginner. It was at a high school with "Highlands" in the name. (Foreshadowing!!)
I joined the gym. And then I actually went! My times weren't laughable for a beginner and I was getting stronger and losing weight. I was almost able to run the whole thing without walking breaks and I was getting some confidence. My friend (who had run an actual marathon) was giving me advice and kept saying that it is much harder to run outside than inside on a treadmill. We went on a run together and she promptly kicked my ass. But then she made me a smoothie, so we are still friends.
Race weekend approached after about 6 weeks of training. I had a friend coming in from out of town plus a few local friends all geared up to run too. Did I mention that they were all runners? Not a bunch of newbies content with making fools of themselves with me, no, I chose to invite my RUNNER friends to run with me. I told myself I just wanted to finish (100% not true) and that it would be great if my time was a personal best (sort of true). I bought a 5k outfit. We carbo-loaded the night before. I planned a healthy brunch at my house for post-race. It was going to be awesome.
I
was going to be awesome. Marathon, here I come.
As I stood at the starting line, I contemplated backing out. My friends wouldn't let me. The race started and I had a good pace through the parking lot of the school. We got out on to the road. The experienced runners were off in the distance by now and I kept my pace. There was a hill. Not huge, but earlier on than I thought. I got to the top to find there was another hill. This one was bigger. I was slowing down. Crap. Another hill. People were passing me. I was tired and it was cold. I started crying but I kept going. I walked a little here and there to catch my breath.
The hills, though, just kept coming. I'm sure you've heard older people say they used to walk uphill to school both ways in the snow? I am fairly certain that this is the school they were talking about.
As I was making my way up the final hill, I heard footsteps behind me. I turned and it was an older man. By older, I mean in his 80s. He passed me. He PASSED me! Behind Grandpa was the ambulance that closes the race and blocks off traffic. It was official. I was last. I cried the entire final quarter mile or so back to the school, all the while with this emergency vehicle following me, lights swirling, holding up the cars behind it for this mess of a "runner."
When I got back to the school, I realized I didn't know where to go. Everyone else was done, the old guy was nowhere in sight and so there was no one to follow. I saw my friends in the bleachers waiting patiently for me. I hugged my one friend and sobbed into his shoulder. I knew him fairly well at the time, but we were not close enough for me to be snotting all over him. They asked if I crossed the finish line because they hadn't seen me and I said no. Because I couldn't find it.
It was right in front of me. So as if this whole thing wasn't humiliating enough, I ran down the bleachers, out onto the track and headed toward the finish line. "Wait!" I heard someone call out. I looked up and realized they didn't know there was still a contestant and they were starting to take it down. I crossed and my time was noted. My first 5k was now in the books. I came in 86th. Out of 86.
And then I got back to my sobbing. I felt like and was, quite literally, the biggest loser. We headed inside to get our T-shirts and for the awards ceremony (2 of my friends won for their age/gender categories - Go them!). A woman approached me and put her arm around me.
"First race?"
"Yeah."
"You picked a tough one."
"I'm an idiot." There might have been more tears.
"You're not. You did it. You should be proud. Most people wouldn't have even signed up."
She was right. I knew it in my heart that I had done something great. And now, 7 years later, I can even laugh really hard about all of this with only a tiny bit of still wanting to cry.
It's not easy for me to put myself out there for the world to see. It's hard enough to fall on your face when no one's looking, let alone when the world is watching. I've been putting more and more of myself out there lately, which is overwhelmingly frightening. But I figure no matter what, can any of it really be any worse than being followed by an ambulance up a country road while I weep?
I'm linking up with Yeah Write again this week!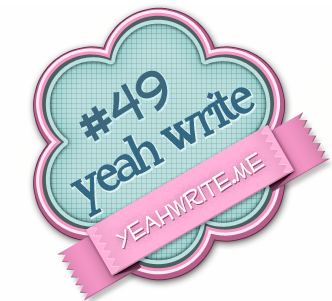 Edited to add: This blog was selected as a Lurker's Favorite! You can discover many wonderful writers at Yeah Write by clicking on the badge below.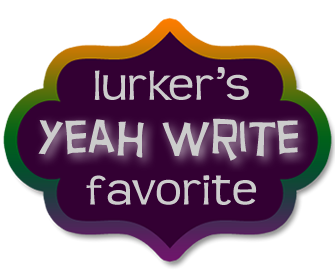 ~~~
Thanks for reading! If you find me at all amusing, please consider following this blog. You can also share it with your friends on Facebook and Twitter. There are icons for that around here somewhere...