I was arguing with my coworker about whether or not living in New Jersey is something to be proud of (this is a whole other post, by the way, but not for today). She and I both grew up in northern NJ, about 10 miles outside of Manhattan. She's got the pride, I do not. It's not that I hate my state, it's that I don't understand being proud to be born somewhere. I'm not judging, I legitimately don't understand it. It just so happened my parents lived here and this is where I was born. My mother also lived in Maine and Michigan, so I could have just as easily been born in either of those states. And those states are nice enough but a bit cold for my taste.
It's really no secret that I want to move to the San Diego area someday and again, not because I hate Jersey, just because I like California. Coworker argued that I should want to stay here and it is nicer here because we have the Jersey shore and its wonderful beaches. Yes, the shore is fun; my family visits there frequently. But I don't think it's reason enough to stay East since California has beautiful beaches as well.
And then this happened:
Her: Yeah, well, California has sharks in the... uhhh... whatever ocean is out there.
Me: Um, what? Seriously? Please tell me you're kidding. Please tell me you know what the ocean is out there.
Her: Atlantic?
Me (in my shrillest voice of disbelief): WHAT?!!!???!!!
Her: What's the big deal?
Me: It's basic geography! How could you not know this?
Her: I don't care about that. I do my part, I recycle!*
Me: Get out. Get out of my office right now.
But then I followed her to yell at her some more.
She called another coworker's extension and asked her if she knew what ocean was off the coast of Cali without asking anyone and she said, "How the f*#@ should I know?"
How should you know? You should know, and I hate to harp on this, because it is basic geography!
I sought out another of the office young-folk (they are all early 20s to my mid-30s) and I ask her if she knows. I begged her to please know. Her response? "I don't know what I did ten minutes ago, why would I know that?"
I can't. I just can't. Someone kill me please, this is absurd.
Thankfully, when I asked the 4th young woman, she did know and joined me in mocking the others. It might have been brought up that perhaps this is something "older" people know. Luckily I don't condone violence in the workplace.
Since I just can't let things like this go, I had to grill Coworker #1 on other things - location of states on a map, state capitals, etc. She didn't know the capital of New York is not New York City. When I told her it was Albany she asked why. (Why. She asked me
why
Albany is the capital...) She explained to me that everyone knows when you say you're "going to New York" you mean you're going to New York City. I wasn't aware that the capital can only be "where everyone goes" and I'm also pretty sure that people
go
to Albany. She said she would have guessed the capital of Mexico was Cancun, because she's been there. Because apparently that's the measure for if a city is important enough.
And, by the way, she's never been to Albany, so there you go.
It would just be mean of me to rip this poor girl apart publicly if I didn't say it was (sort of) all in good fun and I like her very much. She's fun and I enjoy her company, which is not something I say of many people. We work in very close proximity to one another and we chat (too) often. We have great conversations and laugh quite a bit. She is good at her job and she is smart about computer-y things in a way that I most definitely am not. But if you need to know where places are, I highly suggest you come ask me.
I'm all for gentle ribbing in the comments, but don't hate on her too much. Maybe you want to stick up for her because you don't know where stuff is either. Maybe you want to gang up on these young ladies for referring to 35 as "older" - I'm all for that by the way. Maybe you think I should cut her some slack and you have a reasonable explanation for why 75% of the people in my office under age 25 don't know where the Pacific Ocean is.
*Please don't get me started on why I think her recycling practice is about the dumbest reason why she doesn't have to know geography because I'm pretty sure my brain is going to explode if I continue to think about that.
Edited to add:
After I wrote this post, I showed it to her and she approved me posting it. It's her birthday today. I'm thinking of getting her an atlas. I wonder if she knows what an atlas is...
Since this incident, she now knows that it is the Pacific Ocean that is located off the coast of California. She also tells me daily that she knows and, apparently, I'm supposed to be impressed.
I'm linking up again this week with Yeah Write! Click the link below and you will find a grid full of wonderful writers.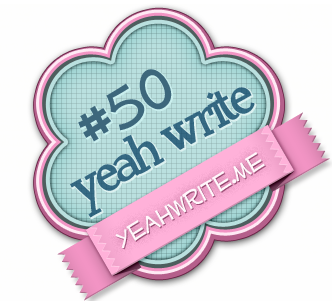 Thanks for reading! If you find me at all amusing, please consider following this blog. You can also share it with your friends on Facebook and Twitter. There are icons for that around here somewhere...